Alan C. Houston
Professor Emeritus of Political Science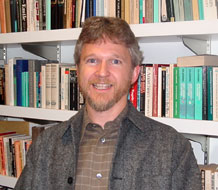 Profile

A political theorist, Houston's research focuses on the development of liberal, republican, and democratic ideas in Europe and America. His interests also include legal theory and constitutional law. He is the author of 

Algernon Sidney and the Republican Heritage in England and America

, for which he won both the 1990 Leo Strauss Award and the 1992 Foundations of Political Theory Book Award, and co-editor (with Steve Pincus) of 

A Nation Transformed: England After the Restoration

. He is the editor of 

Franklin: The Autobiography and Other Writings on Politics, Economics, and Virtue;

 his most recent publication is 

Benjamin Franklin and the Politics of Improvement (Yale, 2008). He has been a fellow in the Society of Fellows, Columbia University, and the Center for Human Values, Princeton University. He has also received grants and fellowships from the National Endowment for the Humanities, the American Philosophical Society and the University of California.

Education
Professor Emeritus of Political Science
Ph.D. Harvard University, 1988
Political Theory, Anglo-american Thought