Data Analytics (B.S.) - PS 32
Rigorous training in the study of probability, data collection, hypothesis testing, computation, and visual display of data as it applies to political and social science problems.
 ALL COURSES FOR THE MAJOR MUST BE TAKEN FOR A LETTER GRADE. 
 Requirements:
Lower-division required:

Two of the following introductory sequence lower division courses: POLI 10 or 10D, POLI 11 or 11D, POLI 12 or 12D, POLI 13 or 13D

Five upper-division Data Analytics courses chosen from the following: POLI 100F, 112A, 118, 137, 168, 170A, 171, 172, 173, 174, or 179.

Seven additional upper-division courses (12 total upper-division)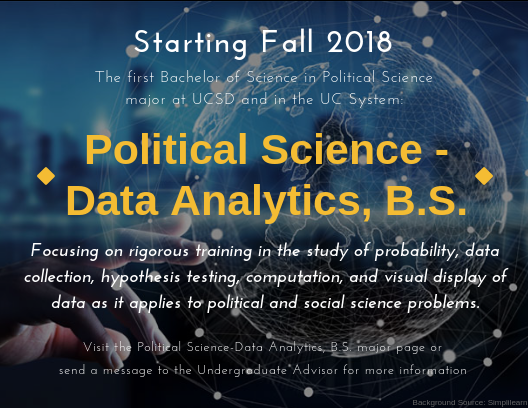 MAJOR IS EFFECTIVE FALL 2018
Please contact the Undergraduate Advisor, Natalie Ikker, via the Virtual Advising Center or drop-in advising to discuss the major, course requirements, and how your major plan or transition will look like.